In 1916, Ashland Manufacturing is changed to Thomas E. Wilson Co. The company manufactures sporting goods in Chicago, IL.







The Thomas E. Wilson Co. expands. They distribute their products throughout the United States, from New York to San Francisco.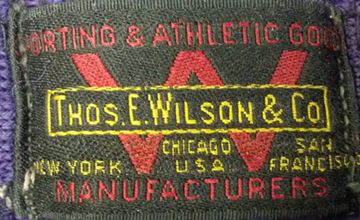 In 1919, a distribution agreement with Western Sporting Goods elevates Wilson's reputation as a premier supplier of uniforms.







In 1925, the name Thomas E. Wilson Co. is replaced with Wilson-Western Sporting Goods Company.



A variation of this tagging can be seen used on Wilson products from the late 1940s to the mid 1960s.




1940s to mid 1950s (variation).




Mid 1950s




1958-1966




1967-1973




1974-1977 (washing instructions change)




1978-1985 ("n" in "Wilson" becomes "uncurved". Size number font changes. Registered trademark symbol ® moves lower.)